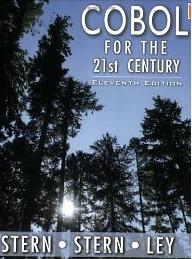 COBOL For The 21st Century
By Stern & Stern ( Latest Edition )

Instructor: Husain Gholoom
Office Hours: to be announced
Computer Lab:
- Sun. 12:00 - 2:00
- Mon. 10:00 - 12:00
- Tue. 12:00 - 2:00
- Wed. 10:00 - 12:00

Course Objectives:
Experience learning a programming language "on your own" as can be the case in industry.
To familiarize students with programming tools such as flowcharts, pseudocode, and hierarchy charts that make program logic more structured, modular, and top-down
Understand the syntax and semantics of the COBOL language
Understand how to develop and implement a program in the COBOL language
Understand various forms of data representation and structures supported by the COBOL language
Understand the appropriate applications (typically business) of the COBOL language
Recognize similarities and common characteristics of two or more programming languages.